Vision Hema
Vision Hema
Automatic Digital Blood Smear Analysis System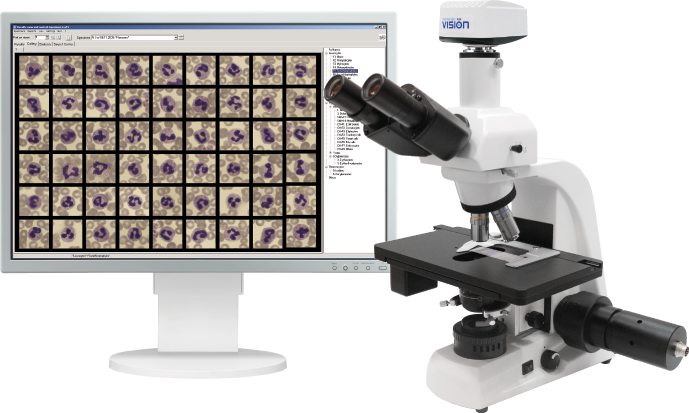 Vision Hema changes your working method completely from manual to automatic
It is enough to put the specimen on the stage and start the analysis procedure
Automatic calculation and classification of blood cells
Leucocytes differentiation in 12 parts
Automatic focus adjustment when working with the specimen
Priority is given to convenience and simplicity — you are working with a unified system
Add new standards to your routine work — use the advantages of digital microscopy
There is no need to store glass slides — you are storing digital ones
Best operation capabilities in digital pathology
You can send the specimen to your colleagues for consulting via the Internet
Use Vision Hema Advantages to Achieve More Accurate Results Faster

Vision Hema scans automatically the thinnest part of the microscopic sample according to adapted path, collects the data for analysis, sorts the blood cells and enters results into the database.

The specialist is free from routine work and only has to see analysis results, correct/verify and print out the report.

Automatic blood smear analysis:
Erythrocytes morphology analysis
Leucogram calculation for 12 leucocytes parts: segmented and banded neutrophils, lymphocytes, monocytes, eosinophils, basophils, blast cells, premyeloblasts, metamyelocytes, atypical lymphocytes, plasmocytes
Platelets morphology analysis
System is adapted to various staining techniques, including modern ones developed for digital systems.

Blood Smear Analysis standardization.



Unlimited Capabilities for the Flexible and Powerful Automatic Blood Smear Analysis System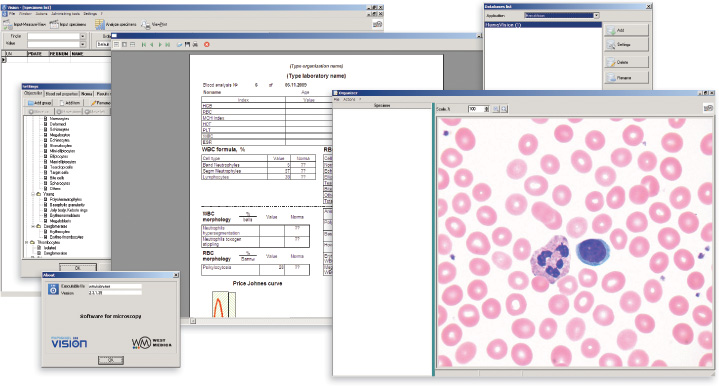 Specially designed for hematologists
Automation:
— Automatic preparation of blood cell gallery
— Automatic sorting of cells by type
— Automatic digital slide preparation
Automatic focus adjustment
Quality control for automatic functions
Calculating blood cells: erythrocytes, platelets and leucocytes
Preparing and sorting blood cell galleries
Automatic choice of motion path when preparing the gallery considering specimen distribution in the smear and quality control for the slide
Viewing and correction of the prepared blood cell gallery and additional sorting for atypical forms
Slide and analysis result database
Report generation
Automatic Analysis Procedure
Prepare the sample
Install the sample on the motorized stage
Introduce sample to the database
New record created
Automatic sample input to the software
You receive the digital slide
Start "Analysis"
Automatic analysis, calculation and sorting of blood cells, including leucocytes
Generating report