Vision Slide
Vision Slide
Automatic Digital Slide Preparation System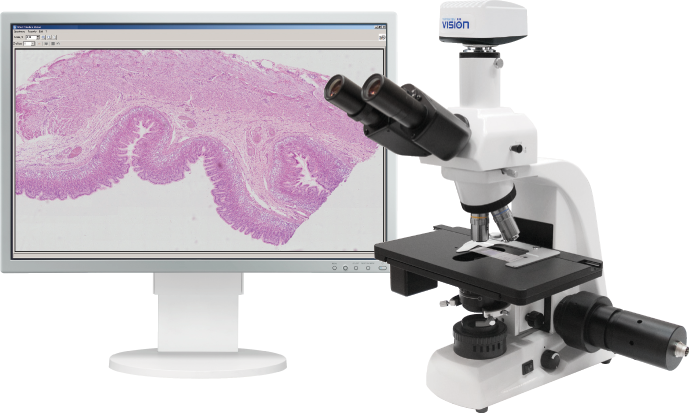 Vision Slide changes your working method completely from manual to automatic
It is enough to put the specimen on the stage and start the analysis procedure
Automatic focus adjustment when working with the specimen
Priority is given to convenience and simplicity — you are working with a unified system
You can send the specimen to your colleagues for consulting via the Internet
There is no need to store glass slides — you are storing digital ones
Best operation capabilities in digital pathology
Add new standards to your routine work — use the advantages of digital microscopy
Get Rid of the Labor-consuming and Routine Work with Specimens

Vision Slide automatically scans microscopic sample using parameters set up by you: required object square, automatic focus required, overlapping percentage for the fields of view, etc.

Vision Slide is indispensable when you have an object that can't be seen entirely in the field of view with the magnification required — it is just not possible to see it completely without creating a "virtual sample".

Digital specimens don't lose color and they don't break; there is also no risk to damage or lose the object of examination.

Due to various capabilities, the system is employed in fields like medicine and biology, cytology and histology, forensics and pathology, botany, osteology, mycology, remote consulting and telemedicine, education of specialists in various fields.



Daily Working Process at a New Level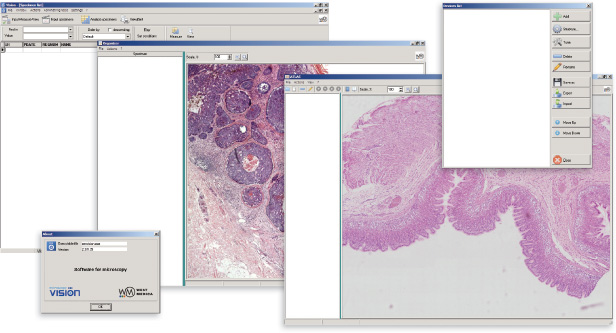 Specially designed for cytologists, histologists, pathologists, etc.
All you have to do is put the specimen on the stage and start analysis procedure
Create digital slides automatically according to the following parameters:
— Required object square
— Automatic focus required or not
— Overlapping percentage for the fields of view, etc.
Automatic focus adjustment improves your work with the specimen significantly
Background correction
Dust particle removal
Online consulting
Educating students and specialists
You can send the specimen to your colleagues for consulting via the Internet
Specimen database
Procedure of Digital Slide Preparation
Prepare the sample
Install the sample on the motorized stage
Introduce the sample to the database
New record created
Automatic sample input to the software
You receive the digital slide
Digital slide