Vision Morpho
Vision Morpho
Automatic Digital Morphology Analysis System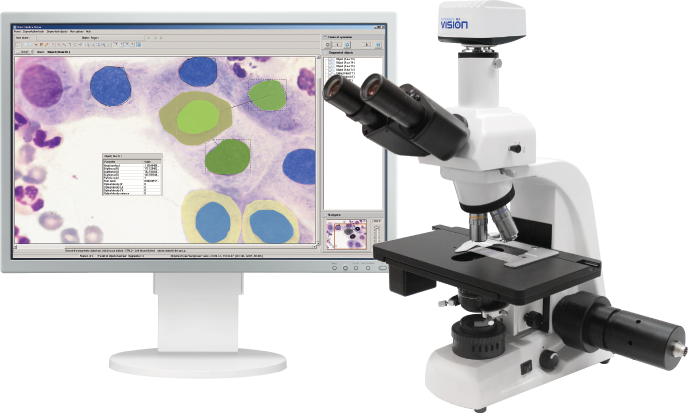 Vision Morpho change your working style from manual to automatic
You need only to place the slide the stage and start the analysis procedure
Automatic focus adjustment when working with the sample
There is no need to store glass slides — you are storing digital ones
Priority is given to convenience and simplicity — you are working with a unified system
Add new standards to your routine work — use the advantages of digital pathology
Best working capabilities in digital pathology
You can send the specimen to your colleagues for consulting via the Internet
Make the Results of Your Analysis More Objective

Vision Morpho is an automatic system for analyzing morphology, form, marks, optical density and concentration for a wide range of objects.

It's a powerful tool for scientific researchers, medical practitioners and specialists in various fields.

Features and tools:
Border selection for objects with automatic definition of contrast contours
Automatic parameter measurements for selected objects
Statistical processing for measurement results stored in a database
Calibrated checking of optical density with reference to objects with single ploidy allows detection of DNA ploidy from Feulgen stained samples
Standardizing analysis techniques allows the obtaining of new data which is not available by traditional methods.

Due to various capabilities, the system is empliyed in fields like medicine and biology, cytology and histology, forensics and pathology, botany, osteology, mycology, remote consulting and telemedicine, education of specialists in various fields.



Specialists, that are Looking for Professional Development and Recognize New Digital Technologies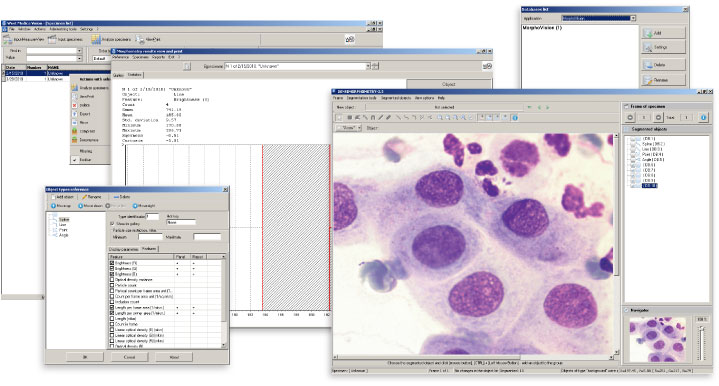 Specially designed for a specialist (cytologist, histologist, pathologist, etc.)
Analyzing morphology, form, marks, optical density, concentration for a wide range of objects and other parameters
Border selection for objects with automatic definition of contrast contours
Separate parameter and object gallery measurement: optical density, color, brightness, form, square, diameter, size, texture, relative location, angles, karyo-cytoplasmic and karyo-cellular ratio, objects concentration in the field of view
Automatic digital slide preparation
Automatic focus adjustment makes working with the sample significantly easier
Database for digital samples and analysis results
Report generation
Automatic Analysis Procedure
Prepare the sample
Install the sample on the motorized stage
Introduce the sample to the database
New record created
Automatic sample input to the software
You receive the digital slide
Proceed with analysis
Analyzing morphology, form, marks, optical density, concentration for a wide range of objects
Generating report